Serving our community for over a century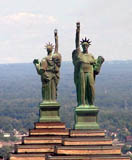 Liberty Building, Buffalo

Roach, Brown, McCarthy & Gruber, P.C. and its predecessor entities have been primarily engaged in litigation defense for 110 years and have successfully represented our clients in both the state and federal courts of all the major metropolitan areas in New York State and beyond. Throughout the course of the past thirty years, we have continued to focus our practice on the defense of medical professionals and their allied professions.

In this regard, we have gained an invaluable and we believe, a unique perspective related to the defense of Physicians, Group Practices, Intermediate-Level Care Providers, Hospitals, and Nursing Homes in professional malpractice claims as well as official state-based investigations initiated by the Office of Professional Medical Conduct and the New York State Department of Health.

For the past three decades, our client-centered focus in cases involving medical malpractice has enabled us to build and maintain strong professional relationships with Western and Upstate New York's major hospital systems, medical providers, and the professional liability carriers that insure them. Our lawyers also serve as local counsel for in-house attorneys at national companies and out-of-state law firms.
Our firm has experience with:
Our focus has enabled us the opportunity to represent various medical professional organizations, including the Medical Society of the County of Erie and its officers, directors and members.

The dedication to our clients and adherence to the strictest professional standards have not only translated into positive results in the courtroom, but also into the recognition of our members and its members as leaders in the field. We are proud to be the only Western New York law firm to be recommended by AM Best™ and The American Bar™, to have achieved an "A-V" rating from Martindale Hubbel™, and to have three attorneys elected as Fellows of the American College of Trial Lawyers.